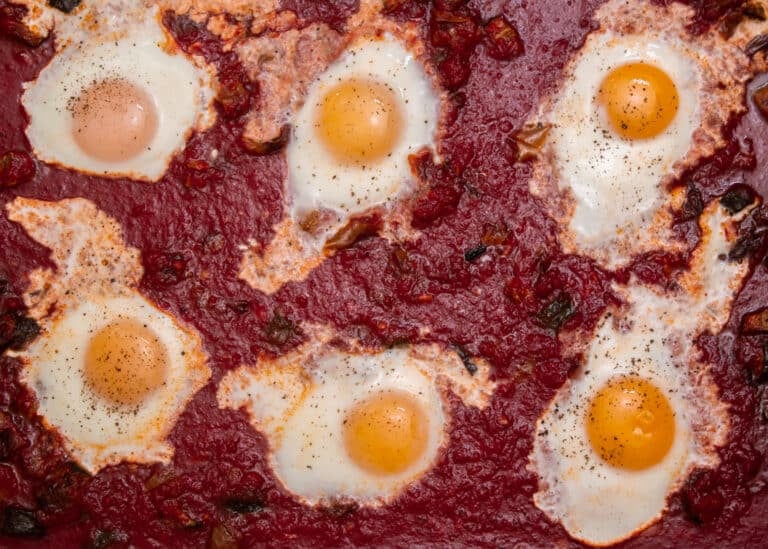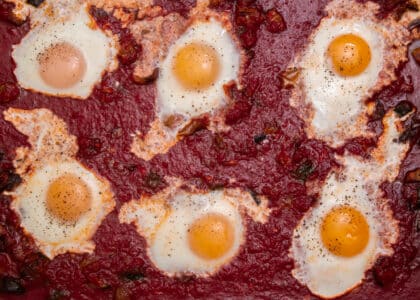 Shakshuka is a great Mediterranean dish for breakfast or any time of day. This sheet pan recipe is simple and easy to make, but still, jam-packed with veggies.
Ingredients
1
orange bell pepper, diced
1
(25 ounce) jar of The Jersey Tomato Co Marinara Sauce
Directions
Preheat oven to 400 degrees F.
Add the zucchini, onion, and bell pepper to a rimmed half sheet pan . Drizzle the olive oil over the veggies and season them with salt and pepper to taste. Use a spatula to toss the veggies until fully coated.
Roast the veggies for 30 minutes.
Add the Jersey Tomato Co. Marinara to the sheet pan and bake for another 10 minutes.
Remove the baking sheet from the oven. Make room for the eggs by making 6 wells into the veggie mixture using the back of a spoon.
Crack the eggs into the indentations and season them to taste. Carefully place the sheet pan back in the oven and bake for 8-12 minutes, or until the eggs set as desired.
Remove from the oven and serve. This recipe intends to be simple but if you have cilantro or feta on hand, top the shakshuka with that.
Enjoy!