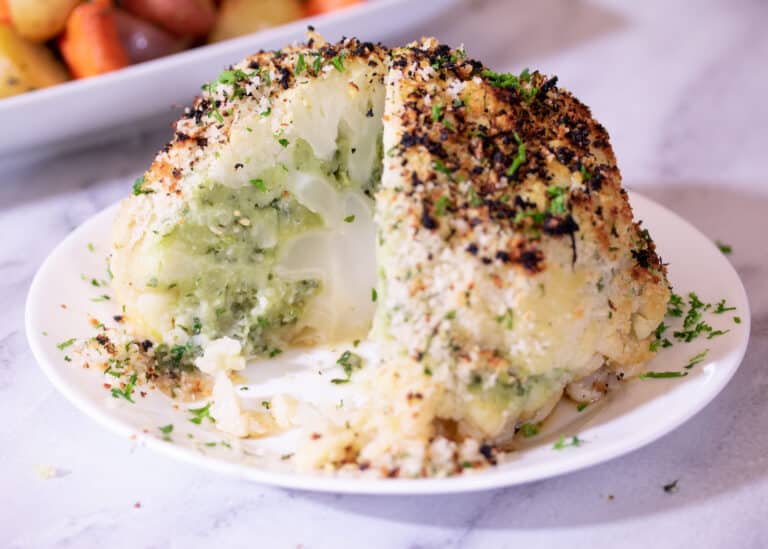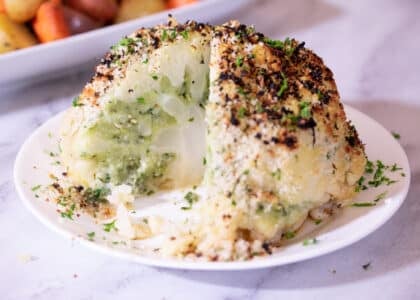 The perfect main course for a vegan or vegetarian Thanksgiving dinner, or just to eat something awesome. This recipe includes a kale-stuffed head of cauliflower roasted with baby potatoes, carrots, and finished off with a veggie gravy.
Ingredients
3
lbs
baby potatoes, halved
2
tablespoons
chopped parsley
Directions
Preheat the oven to 450 degrees F.
Trim the leaves off of the head of cauliflower.
Place the cauliflower in a microwave-safe bowl with ½ inch of water. Loosely cover with plastic wrap and cook for 10 minutes. Remove the cauliflower, uncover, and let cool.
Storage Tip: Wrap cauliflower in a damp cloth or paper towel and put it in an open plastic bag in the vegetable crisper drawer and it will keep for weeks.
In a large mixing bowl, add the 3 pounds of baby potatoes and 2 chopped carrots along with 1 tablespoons of olive oil, 1 teaspoon of sea salt, and 2 tablespoons of chopped parsley.
Storage Tip: Leftover parsley that you purchased for this recipe can be stored like cut flowers. Trim the ends of the bunch and store in the fridge in a jar with some water.
Transfer veggies to a rimmed half-size baking sheet (18" x 13") and spread them out in an even layer. Cover with foil and bake for 20 minutes.
Peel the baking potato and cut it into large chunks. Place it in a microwave-safe measuring cup with about ⅔ cup of water. Loosely cover with plastic and cook for 5 minutes.
Rice or mash the potato in a mixing bowl. Add in the ½ cup minced kale, a minced clove of garlic, ¼ teaspoon sea salt, and ⅛ teaspoon of ground black pepper. Mix to combine.
Add in ½ cup of vegetable broth to bring stuffing together.
Storage Tip: To store potatoes, never keep them in the fridge. Store them in a cool dark place, not the fridge, in a paper bag. Never in a plastic bag. The cold of the fridge converts the starches to sugar, ruining their flavor.
Add stuffing to a piping bag (or zip bag, you just need a strong corner). Trim the tip and carefully pipe the stuffing into all of the nooks and crannies of the cauliflower. Brush the cauliflower with olive oil.
In a mixing bowl, fully combine ½ cup Panko bread crumbs, 2 tablespoons of chopped parsley, ¼ teaspoon of sea salt, and 2 tablespoons of olive oil.
Pat the bread crumb mixture all over the cauliflower to fully coat.
Once the potatoes and carrots have finished baking for 20 minutes, remove from the oven and remove foil. Make room for the cauliflower head in the center, and place it there right side up.
Mix together 2 cups of vegetable broth and 1 tablespoon of flour.
Place the baking sheet back into the oven. Carefully add the broth to the baking sheet (or before if you won't spill). Bake uncovered for another 20 minutes, until roots are fully cooked and gravy thickened.