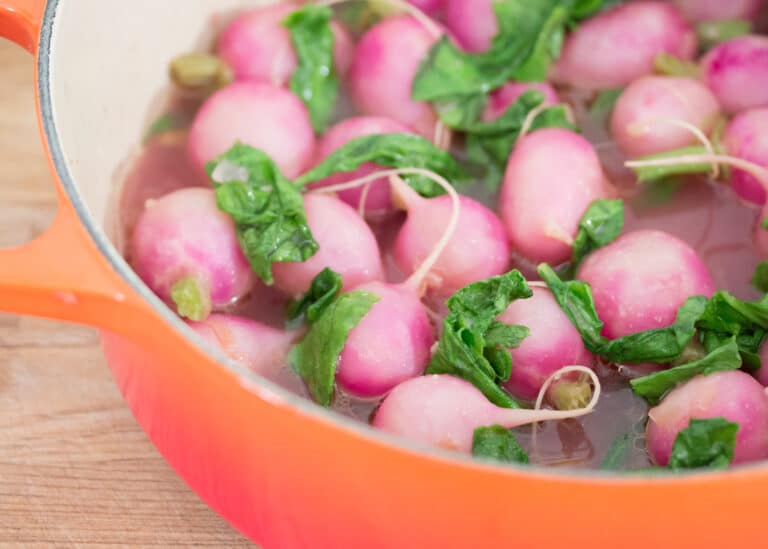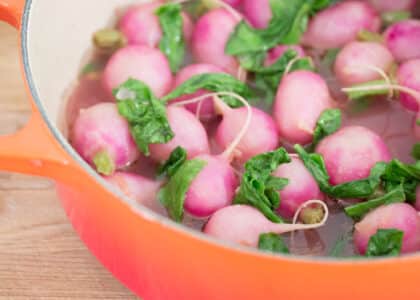 If you are looking for a healthy and delicious side dish, check out these delicious braised radishes and greens. Easy to make and hella tasty. This vegetarian recipe can easily be made vegan.
Ingredients
1 ½
lbs
CA Grown Radishes, about 3 bunches
2
cups
CA Grown radish greens
2
cloves CA Grown garlic, minced
1
CA Grown shallot, diced
2
tablespoons
butter, unsalted
1
cup
vegetable broth, low sodium
Directions
In a shallow dutch oven, melt 2 tablespoons butter over a medium-low heat.
Add 1 diced shallot and saute until softened. Add 2 cloves minced garlic and saute for another minute.
Add in 1½ pounds trimmed radishes (but save the greens) and mix until well coated in the butter sauce. Increase heat to medium-high and saute radishes until they just begin to soften, about 2 minutes.
Add ½ teaspoon sea salt and 1 cup veggie broth, bring to a simmer and cover.
If you don't have a shallow dutch oven, cut a piece of parchment paper to cover the radishes with. This is a cartouche — a parchment paper lid — but like I said, a shallow dutch will do. This reduces the amount of evaporation that occurs during braising which is key to the technique.
Cook radishes, stirring once or twice, for about 12 minutes until fork tender.
Add in the chopped radish greens, cover, and turn off the heat. Cook until the greens just wilt.
This dish can easily be made vegan. Replace the butter with oil.