Pineapple Avocado & Tequila Salsa
Recipe by:
Jerry James Stone
|
Written
March 22, 2015
I admit it, I'm a slut for salsa. I could literally live off of the stuff. Especially delicious fruit salsas, such as this Pineapple Avocado & Tequila Salsa. And what better way to celebrate National Chip & Dip Day, which is March 23rd, by the way.
You may notice that these are not my typical step-by-step photos. The difference: I am in them. Why? Well, this salsa was made during my newly revamped cooking show on YouTube. If you haven't been over to the channel, check it out. There are 178 videos for you to drool over.
But what makes it new? Well, I don't want to spoil the surprise but we got some fun stuff coming your way starting tomorrow, and this photo of me and Upstairs Judy is just the tip of the iceberg, so to speak. Just the tip.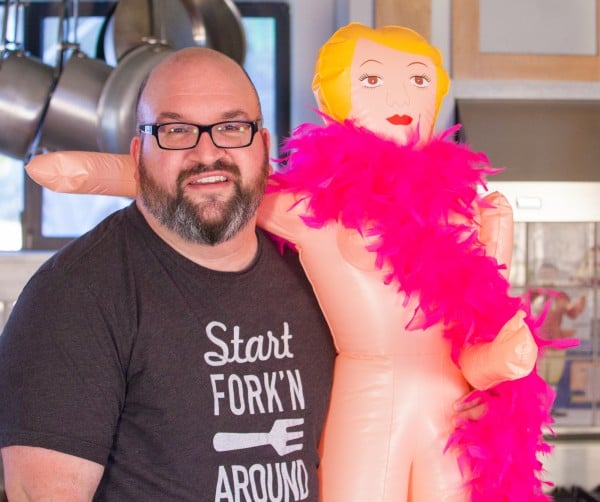 Now, let's get cooking!
vRgmDe3sov4
Ingredients
1 pound Pineapple
⅓ cup minced red onion
1 serrano chile, stemmed, seeded, and minced
3 tablespoons chopped cilantro
3 cloves of garlic, minced
½ of a lime, juiced
2 ounces Tequila
1 avocado
Sea salt
Total Time:

20 minutes

PREP

20 minutes

INACTIVE

COOK

Servings:

Recipe Type:

Diet:

Vegetarian
First thing you need to do is chop up the pineapple using a small dice: that's a 1/4-inch cube. Now, this recipe calls for fresh pineapple and here's why. Canned pineapple is just too soggy. It really doesn't chop. If you want to use pineapple from the can, get the crushed stuff. But I highly suggest fresh pineapple, as in a whole one or the spears you find in the prepared food section.

NOTE: FACT: Did you know you can regrow pineapple from a fresh one?

&nbsp

Strain the pineapple, removing all excess juice, then add it to a mixing bowl. Now add the minced red onion, minced serrano chile, chopped cilantro, minced garlic, and the juice from half of a lime. Add in the tequila, mix to combine.

&nbsp

Next up, slice up some avocado. Simply use a butter knife cut each half into a grid. Then scoop it out with a spoon. I have some great How Tos on avocados, if you are curious about using them. Or how to store them.

&nbsp

Gently fold in the avocado. I do this to keep the salsa from getting mushy. It's salsa... not guacamole!

&nbsp

Salt to taste and serve it in your favorite party bowl (yes, a ceramic sombrero serving dish is acceptable!) along with some tortilla chips. Squeeze a little lime on them and sprinkle them with salt. You won't regret it.Now get the hell outta my kitchen!

&nbsp

&nbsp
Jerry James Stone
Food pornographer, full-time vegetarian, pointy beard enthusiast, and I say 'hella' too much. Founder and creator of Cooking Stoned.
Get My Secret Recipes
Are you hungry? Subscribe to our weekly newsletter!
No spam – we promise (we're vegetarian)