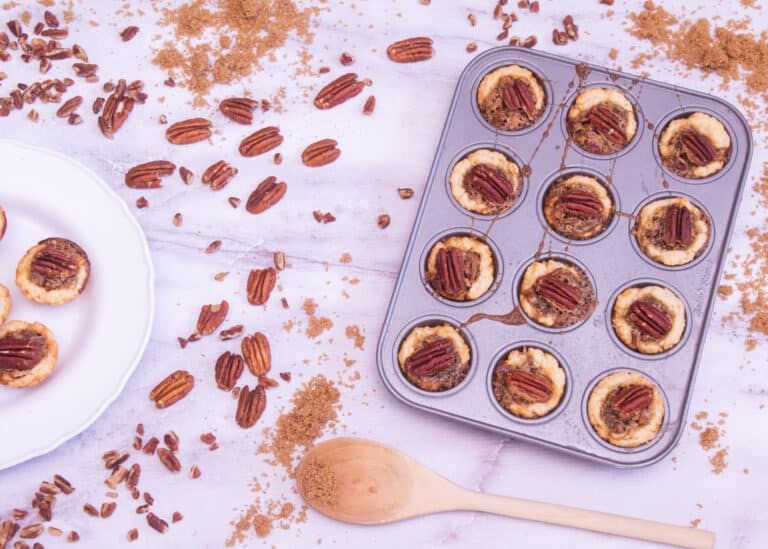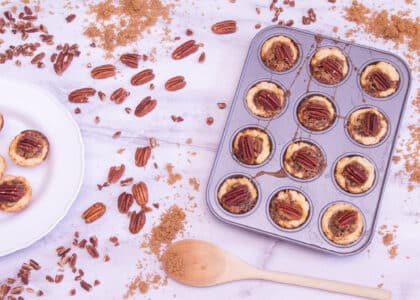 In this video, I show you how to make my mom's homemade pecan tassies. A gooey brown sugar filling wrapped in a cream cheese pie crust. These bite-sized dessert pieces are bound to be a holiday staple.
Ingredients
Cream Cheese Dough
3
ounces
cream cheese, softened
Pecan Pie Filling
1
tablespoon
butter, softened
1
teaspoon
vanilla extract
Directions
Preheat the oven to 325°F.
Cream Cheese Dough
Mix together 3 ounces cream cheese and ½ cup butter. Work in 1 cup of flour. Cover dough and chill in the refrigerator for at least 1 hour.
Any leftover cream cheese can be frozen if you don't use it often. Simply put it in a plastic container and freeze it. Warning, it will get a little grainy and possibly watery from freezing. When you are ready to use it, let it thaw out in the fridge. Mix it all together if any separation occurred and you are good to go. It is best to use frozen cream cheese in things like this recipe.. I wouldn't put it on top of a bagel.
Shape dough into 24 1-inch balls. Place in an ungreased 1 ¾ inch muffin pan, pressing dough against the sides. Helps if you have a 1-inch rod to form dough cups with. After forming the cups, place the pans back in the fridge while making the filling.
BTW, a tassie is a Scottish term for a cup or goblet for drinking wine.
Pecan Pie Filling
Beat together the 1 egg, ¾ cup of brown sugar, 1 tablespoon butter, 1 teaspoon vanilla extract, and a pinch of sea salt.
Mom's Homemade Pecan Tassies
Divide ½ cup chopped pecans between the cups. Divide egg mixture between the cups. Top with whole pecans.
Any leftover pecans should be stored based on how you plan to use them. If they're shelled, put them in the fridge, they will keep there for about 6 months, up to a year in the freezer. The oils in nuts go rancid when left out at room temperature. It's important to keep them stored in something airtight to avoid any exposure to moisture.
Bake for 25 minutes until egg mixture is set and the crust is golden brown.
Enjoy!