Lavender Mojito by the girl & the fig
Recipe by:
Jerry James Stone
|
Written
March 20, 2013
Last year I spent time with some really amazing people including Sondra Bernstein and her crew from the girl & the fig, the fig cafe and ESTATE, all located in Sonoma Valley.
Pictured below are Sondra and Chef John at the Imagery Estate farm. The beets that Sondra is holding made their way into a very tasty beet and carrot juice cocktail enjoyed by us later that day. But Sondra admits, they haven't gotten it all figured out just yet. This is a learning process. For example, the farm is booming with leeks at the moment and therefore, so is the menu at all three restaurants (oops!). Next time around they will pace out their plantings to better balance the menu.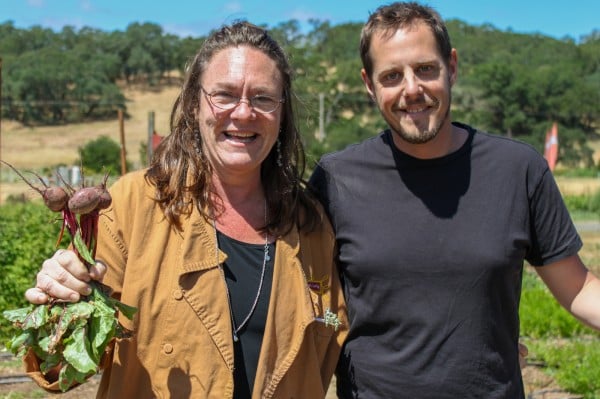 6bfuDxcXlMM
Ingredients
4 ounces light rum
20 fresh mint leaves
2 limes, juiced
2 ounces Lavender Simple Syrup
Club soda
fresh lavender, for garnish
Total Time:

5 minutes

PREP

5 minutes

INACTIVE

COOK

Servings:

2 Lavender Mojitos

Recipe Type:

Diet:

Vegetarian
Add torn fresh mint leaves to a pint glass.

&nbsp

Add lime juice and lavender syrup and muddle the ingredients.

&nbsp

Add ice, the rum and give it a shake.

&nbsp

Top it off with the club soda and some fresh lavender.

&nbsp

&nbsp
Jerry James Stone
Food pornographer, full-time vegetarian, pointy beard enthusiast, and I say 'hella' too much. Founder and creator of Cooking Stoned.
Get My Secret Recipes
Are you hungry? Subscribe to our weekly newsletter!
No spam – we promise (we're vegetarian)