Ready to get cooking? Well, mark your calendars because JJS Live! Season 2 kicks off this week. From Freddie Prinze, Jr.'s new book to wine-based cocktails with Whole Foods, you don't want to miss this season. Below is the full Facebook Live schedule.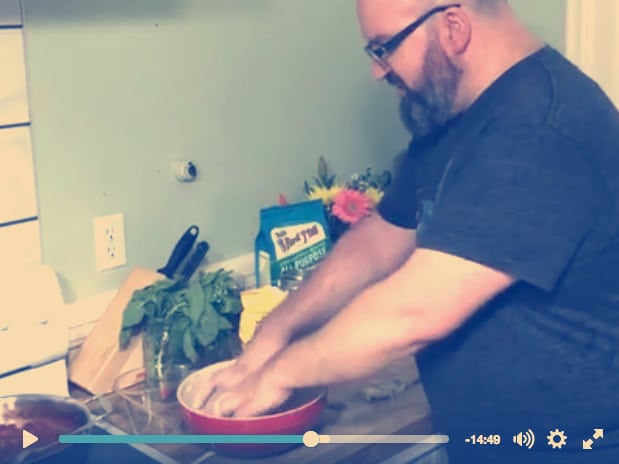 Wine-Based Cocktails with Whole Foods Market
August 3rd, 2016 6:30pm PST
Dive into summer with delicious wine-based cocktails. In the Season 2 premiere of JJS Live!, you'll learn to make a Spicy Mango Sangria, a Basil Honeydew Spritzer, and a Boozy Berry Smoothie! You don't wanna miss this delicious episode. Let the drunk dialing begin. RSVP here.
Savory Oatmeal with Bob's Red Mill
August 10th, 2016 6:30pm PST
Oatmeal has been re-invented! In episode two of JJS Live!, we show you how oatmeal is more than just brown sugar and maple syrup. It can be savory, cheesy, and spicy! You don't want to miss this show because healthy eating just got a lot more interesting. RSVP here.
Fresh & Healthy Bean Salad
August 17th, 2016 6:30pm PST
If you love fresh, healthy, and delicious cooking, then be sure to mark your calendar for episode 3 of JJS Live! I am going to show you how to make one of my favorite salads from one of my favorite chefs (What's for Dinner? Ally's Kitchen). Oh, and there is a twist! Join me and find out how a byproduct from the recipe can make a super healthy vegan dessert! RSVP here.
Doggy Birthday Cakes
August 24th, 2016 6:30pm PST
It's your birthday, it's your party! At least that's what your pet will be saying in episode four of JJS Live! Jerry will show you how to make a delicious birthday cake for your dog. Yes, your dog! Join Jerry and Mother Nature Network for this fun recipe. RSVP here.
#BacktotheKitchen with Freddie Prinze, Jr.
August 31st, 2016 6:30pm PST
Get #BacktotheKitchen in episode five of JJS Live! During the show, Jerry will be making one of his favorite recipes from Freddie Prinze Jr.'s new cookbook, Back to the Kitchen. RSVP here.
Zinfandel Wine Pairings with Peachy Canyon Wines
September 7th, 2016 6:30pm PST
Hey Zinfandel lovers, you don't want to miss episode six of JJS Live! Along with Jerry's delicious wine-pairing recipe, you'll have the chance to win a 2-night stay in gorgeous Paso Robles, a VIP wine tasting tour, and a barrel tasting. Travel and transportation not included; cottage limited to availability. This giveaway and all of its delciousness is provided by Peachy Canyon Winery and their delicious 2014 Westside Zin. This wine is rich with dark stone fruit, baking spices, and cocoa. Wait till you see what Jerry cooks up to go with it! RSVP here.
Vegan Ice Cream Sandwiches with Bob's Red Mill
September 14th, 2016 6:30pm PST
Bob's is back in episode nine of JJS Live! If you love ice cream, cookies, and delicious vegan eats… you don't want to miss this episode! You'll be going bananas for this easy ice cream recipe. And cookies made with yummy and healthy muesli, so this barely even counts as dessert! It's basically breakfast. And we all know that is the most important meal of the day! RSVP here.
Tea-Based Lattes
September 21st, 2016 6:30pm PST
Get ready for a rich and indulgent tea-based latte that is wonderful both hot or cold. Plus it is vegan! JJS Live! episode nine is going to be a delicious one. RSVP here.
Three Loaves with the James Beard Foundation
September 28th, 2016 6:30pm PST
Did you know that one in six Americans faces food insecurity? One in six! Join Jerry and the James Beard Foundation for a very special JJS Live! Episode nine, and the Season 2 finale, is about Jerry's Three Loaves Project, where home cooks come together to help feed the hungry by making homemade bread. RSVP here.