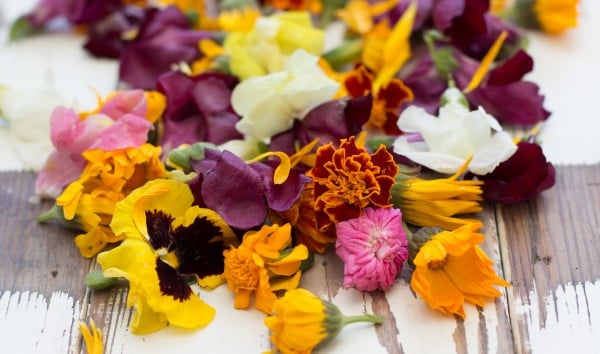 Yes, some flowers are edible. But some are also deadly… well, if you eat them. Not to freak ya out but there are a few rules to follow when eating flowers. For one, only eat the ones you know are consumable. Don't eat anything from a florist or nursery, it's probably been sprayed with some nasty stuff. Same goes with roadside flowers or stuff found in public parks. And lastly, stick to the petals!
But before we begin, common landscape and flowering plants you should avoid eating include: clematis, hydrangeas, sweet peas, azaleas, daffodils, daphne, lily-of-the-valley, foxgloves, bleeding hearts, rhododendrons, wisteria, oleander, lupines, hyacinths, four-o'clocks, calla lilies, and castor beans. This is by no means an exhaustive list so you should thoroughly research any flower before munching away. I recommend getting your edible flowers from Whole Foods like I did.

Also, be sure to check out our infographic on the Meaning of Flowers, you might be surprised!
Allium
Angelica
Anise hyssop
Apple tree flowers
Arugula
Baby's breath
Bachelor's button
Basil
Bee balm
Borage
Calendula/Marigold
Carnations
Chamomile
Chervil
Chicory
Chives
Chrysanthemum
Cilantro
Citrus tree flowers
Clover
Dandelion
Daylily
Dianthus/Pinks
Dill
Elderberry
English daisy
Fennel
Fuchsia
Gladiolus
Hibiscus
Hollyhock
Honeysuckle
Impatiens
Jasmine
Johnny jump-up
Lavender
Lemon berbena
Lilac
Linden
Mint
Nasturtium
Oregano
Petunia
Pansy
Plum tree flowers
Radish
Rose
Rosemary
Sage
Scented geranium
Snapdragon
Squash blossoms
Sunflower
Tulips
Violets